Sports Premium
Using the Sports Premium at Reinwood Infant and Nursery
Click HERE to read the Sports Premium Impact Evaluation for 2022-23.
Click HERE to read the Sports Premium Impact Evaluation for 2021-22.
Click HERE to read the Sports Premium Impact Evaluation for 2020-21.
Click HERE to read the Sports Premium Impact Evaluation for 2019-20.
The school receives Sports Premium funding annually. In our school, we are using this funding by working with the Pennine Sports Partnership to:
Increase the amount of competitive sport in which our children

participate.

Make links to other community sports providers.

Develop additional clubs and activities for children, both within and

outside the curriculum.

Encourage our children to improve their leadership skills through sport.

Give extra support in PE to our most talented children and include

those with special needs in sport.

Bring PE and sports specialist teachers and coaches into work

alongside class teachers in lessons.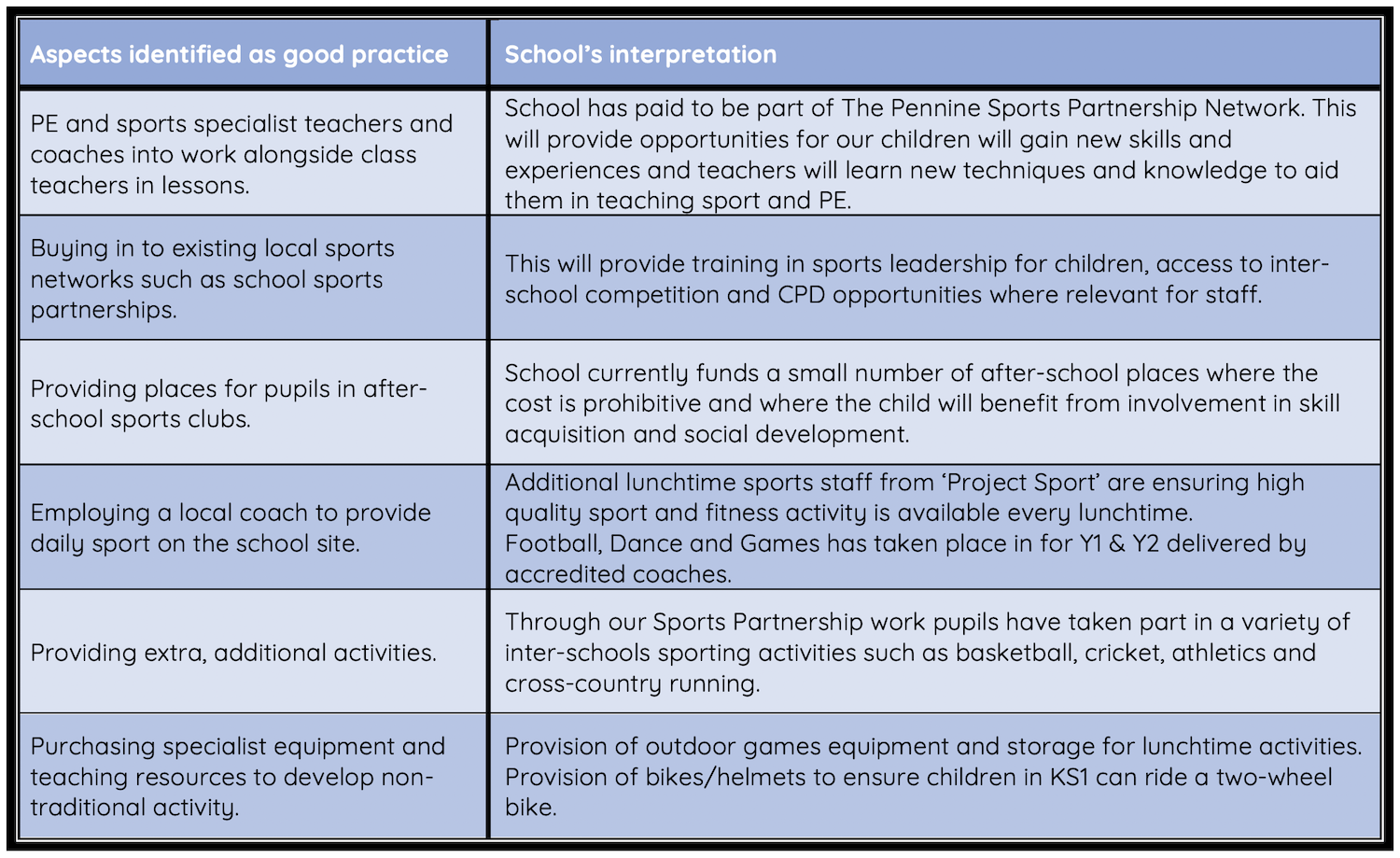 Impact of funding on pupils
The employment of a sports coach alongside teachers has enabled all pupils to make greater progress in PE, due to the increased knowledge base and teaching methods being delivered by the coach. This has impacted greatly on the enthusiasm of the pupils and, as a result of the increased engagement, their confidence has vastly increased.
Offering free clubs and training in areas such as dance, trim trail and multi-skills has allowed pupils to extend their current skills in these areas, as well as perform for others - some for the first time.
Inter-school competitions for year groups have increased pupils' opportunities to take part in a variety of sporting activities hosted both at our school and at others within the local pyramid of schools. This has increased pupils' confidence and enjoyment in sports as they meet up with pupils from other schools.
A number of children attend after-school sports activities. When they receive an award at the club, the school presents the child with their award in Celebration Assembly. This has raised the profile of the activity and the achievement.
The importance of health and fitness is threaded throughout the school curriculum.
As a result of the school's engagement and commitment to PE and physical activity, all children can develop positive and productive approaches to living a healthy and active lifestyle.
Impact of funding on staff
Staff demonstrate increasing confidence when teaching games lessons. The feedback from the staff has been that they feel more confident in planning and delivering skills-based sessions and that the children really enjoy the multi-skills approach to PE lessons. They have observed high-quality PE lessons delivered by our sports coach, in addition to quality gymnastics coaching sessions delivered by a specialist coach. Working alongside our sports coach has enabled staff to see high-quality warm-ups, as well as the progression of activities within lessons. Having worked alongside our sport coach, staff are beginning to feel more confident at planning and delivering PE lessons and are more aware of who the G & T pupils are in their class.
Attainment
Working alongside the sports coach and PE coordinator has enabled class teachers to identify pupils who are experiencing difficulties in PE and provide 1:1 support to overcome these challenges. Additionally, there has been an increased identification of G & T pupils across the school, which has led to them being targeted by school staff for group coaching sessions through selection for the G & T Multi-skills Academy at Salendine Nook High School and entry into inter-school competitions, such as cross country running, quick cricket, basketball and athletics.
Click HERE to visit our Sporting Events page and see what we've been getting up to!
Burfitts Road, Oakes, Huddersfield, HD3 4YL
01484 651103
office@reinwoodinfants.org